Sunday, August 26, 2012
Well, this morning I got up early and participated in my first triathlon. My goal was just to finish and I did! In one piece too!
The race was in Pleasant Prairie, Wisconsin. They have a beautiful facility there and the race was very well-run.
Me post race...Victory Comes in Threes...my "supplies"
When I came home, Bill made me waffles :)
As this is a cooking blog and not a Sara's exercise blog, here is the recipe. Enjoy!
Basic Waffle Batter
source: cooks.com
2 c sifted flour
3 t baking powder
1 t salt
2 T sugar
1 egg
1 1/2 c milk
3 T oil
Mix all ingredients. Pour 3 T batter in a waffle iron. Cook until done.
Bill would like to add a "pro tip"...make sure to use PAM on the waffle iron prior to making waffles. Also, Bill likes to add a little vanilla to the batter. I guess this is a bonus pro tip!
Until next time,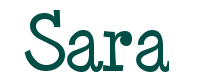 Like Me on Facebook

About Me
Follow Me On Twitter

Reader Favorites

Blog Archive

Topics