Wednesday, October 10, 2012
Wow, this is a crazy-good cookbook. I love the premise...a Texas girl moves to France for love. She soon finds herself cooking to pass the day and begins teaching others her Tex-Mex favorites! Ellise Pierce is the Cowgirl Chef and her cookbook is a mix of traditional Southern dishes as well as French favorites, like a tart made with jalapeno pimento cheese!
To introduce you to this cookbook, I made her Salty Caramel Sauce. I drizzled this on my quinoa pudding recipe from earlier this week. Mmmmm....
Salty Caramel Sauce
from the Cowgirl Chef cookbook
1 1/2 c sugar
1/4 c water
1 stick of butter
3/4 c sour cream
1 t sea salt
Combine the sugar and water in a saucepan and heat to medium to high heat. DO NOT STIR, but cook for 10-15 minutes. The mixture will boil/bubble rapidly, so make sure to keep watching it. The mixture will then look liked cracked ice, then get foamy, and then brown. Remove from heat and add the butter, sour cream and salt. Mix well and transfer to a glass or ceramic (not metal) bowl to cool.
It worked well for me to place the pan back on the burner after I had added to butter, etc., to make sure to get the sauce nice and smooth.
As I posted about on Sunday night, this sauce would be great on quinoa (or rice) pudding, ice cream, or as an apple dip!
The result is heavenly!
Linking Up Here:
Until next time,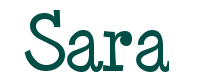 **In full disclosure, if you happen to purchase this cookbook through the link mentioned in this post, I will receive a small financial kickback from Amazon. Enjoy! **
Like Me on Facebook

About Me
Follow Me On Twitter

Reader Favorites

Blog Archive

Topics