Sunday, September 9, 2012
Hi there,
Well, football season has started. The Packers LOST today (so did the Browns), so I am a little disappointed in the NFL Week One. But one high point is that I made these jalapeno poppers...they are so good and very easy to make.
A great option for a football gathering, pro or college.
Fresh Jalapeno Poppers
12-14 jalapeno peppers
8 oz cream cheese, at room temperature
1 c shredded cheese, preferable Mexican blend
1/4 c corn, either fresh or defrosted from frozen
1/4 c diced onion
dash of Frank's Red Hot sauce (optional)
Preheat the oven to 375.
Please remember to use rubber gloves when handling jalapenos! You will thank me later.
Cut the jalapenos length-wise. Remove the seeds and membranes, set aside.
In a small bowl, combine the cream cheese, the shredded cheese, corn, onion and the hot sauce.
Stuff the jalapenos with the cream cheese mixture. Bake for 20-25 minutes, or until the cheese is bubbling.
So easy! Enjoy. Linking this recipe a few places: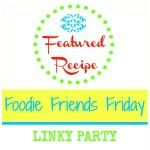 Until next time,
Sara
Like Me on Facebook

About Me
Follow Me On Twitter

Reader Favorites

Blog Archive

Topics