Sunday, February 10, 2013
Well it finally snowed for real here in Milwaukee this week. We probably got about six inches of snow, but then today, it rained. What a mess! A good day to stay home and cook!
Bill and I have been trying to eat a little more healthy these days. This might mean fewer desserts featured on Milwaukee Kitchen, as it is hard for two people to eat a dozen cupcakes each week (not that we have been doing that or anything).
So tonight I pulled out a trusty Weight Watchers cookbook. If you have access to WW in your area, I highly recommend their cookbooks, even if you are not a WW member. They are terrific and I have several.
Tonight we tried a new recipe for me, Greek Lasagna. It uses no boil noodles, which usually scares me, because I have had bad experiences using them and then having hard noodles for dinner. Not so here! Whether you are trying to lose a little weight or not, given this one a try!
Greek Lasagna
adapted from Veg Power!, a Weight Watchers cookbook
1 (15 ounce) container fat free ricotta cheese
1 (10 ounce) packaged chopped frozen spinach, thawed and squeezed dry
2 cups shredded fat free mozzarella cheese
4 ounce low fat crumbled feta cheese
1 egg, lightly beaten
1 teaspoon dried oregano
1 1/2 jar (about 35 ounces total) fat free marinara sauce
9 no boil lasagna noodles
Preheat oven to 375 degrees. Lightly spray a 9x13 pan with nonstick spray. In a medium bowl, combine the ricotta, one cup of the mozzarella, feta, spinach, egg and oregano. Mix well.
Spread 1/4 of the marinara sauce on the bottom of the pan, Press three lasagna noodles in the pan. Spread 1/2 of the cheese mixture on top of the noodles. Spread 1/4 of the sauce on top of the cheese mixture. Add three noodles. Add the last of the cheese mixture. Add 1/4 of the marinara sauce, then the remaining three noodles, then the remaining sauce. Top with the remaining mozzarella cheese.
Cover the lasagna with foil and bake for 30 minutes. Remove the foil and continue to bake for another 15 minutes or until the cheese melts. Let stand for five to ten minutes before cutting.
Yum! Enjoy it!
Linking here:
This Gal Cooks
Addicted to Recipes
Ms. EnPlace
Alderberry Hill
Flour Me With Love
zentMRS
Chef in Training
Memories by the Mile
White Lights on Wednesdays
Live.Laugh.Rowe.
The 36th Avenue
Bloom Designs Online
Until next time,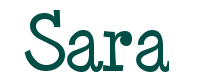 Like Me on Facebook

About Me
Follow Me On Twitter

Reader Favorites

Blog Archive

Topics