Thursday, June 28, 2012
Chicken, chicken, chicken. Bill gets tired of chicken, so we haven't had it for a few weeks. I thought tonight I would use the chicken tenders that were in the freezer and complement it with some great farmer's market finds. I made a creamy dill sauce with chicken and beans.
I started by getting out the rice cooker and starting some
Trader Joe's
rice mix. Yep, we just throw those into the rice cooker. I think it only took about 15 minutes start to finish.
In the meantime, I tossed the tenders in a little flour and grilled them for 4 minutes on each side. I then removed them from the pan and covered them with foil while I worked on the sauce:
Sara's Dill Sauce
1 shallot, diced
1 TBLS olive oil
1 TBLS butter
3 TBLS flour
1/4 c chicken broth
1 c heavy cream
3-4 TBLS fresh, chopped dill
salt and pepper to taste
After removing the chicken, add the olive oil to the hot pan. Add shallots and saute, bringing up all of the brown bits from the bottom of the pan. Add the butter and, after it has melted, add the flour. Cook the flour thoroughly, at least two to three minutes. When there is no flour visibly present, add the chicken broth. Then add the cream and dill. Cook for four to five minutes until thickened. Add salt and pepper to taste. Enjoy!
For the beans, just steam them and add a little butter, salt and pepper prior to serving. So easy! In fact, this meal was ready in less than 30 minutes, so although it looks like a Sunday night special, this can easily work into any weeknight routine.
I hope you will give it a try and let me know what you think!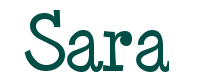 Like Me on Facebook

About Me
Follow Me On Twitter

Reader Favorites

Blog Archive

Topics